$20 Johnnie Mars Gift Certificates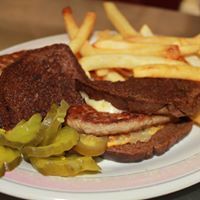 Bidding for this item is over. You may log in to check if you are a winner.
d
&nbsp:
h
&nbsp:
m
&nbsp:
s
Package of four $5 Johnnie Mars Gift Certificates (good thru 6/30/2018).

Bring the family in to Johnnie Mars for delicious breakfasts, lunches and dinners.

Johnnie Mars is your family-style restaurant, featuring American, Greek and Mediterranean home-style favorites for breakfast, lunch, dinner and coffee time.

Use this certificate toward the purchase of appetizers, drinks, entrees and desserts. Come hungry and come often!

Johnnie Mars offers a full menu, featuring breakfast items such as pancakes and waffles, omelets, biscuits & gravy, and French toast, and lunch and dinner items, such as soups, sandwiches and dinners. Choose from chicken strips, seafood, burgers and fries, pork tenderloin sandwiches, turkey, baked ham or prime rib dinners, New York Strip steaks, spaghetti and much more!

Johnnie Mars also has a kids menu with grilled cheese, spaghetti, hamburgers and cheeseburgers to please the young palate.

Gift certificates to Johnnie Mars make a wonderful holiday gift or stocking stuffer!

Johnnie Mars is open from 6 a.m. to 9 p.m. Monday through Sunday.


2401 5th St.
Sioux City, Iowa