$25 Zort's Prime Time Gift Certificates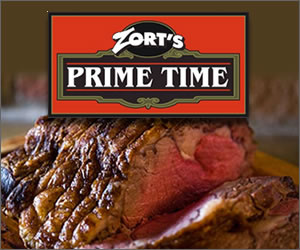 Bidding for this item is over. You may log in to check if you are a winner.
Bring the family and enjoy our prime rib with five $5 Zort's Prime Time gift certificates (good thru 6/30/2019).



Zort's Prime Time have a reputation for doing one thing, prime rib, and doing it very well.

The restaurant caters to the carnivorous, specializing in Certified Angus Beef Prime Rib slow cooked to perfection and served in a buffet setting with a salad bar, baked potato, corn and all the fixin's.

Zort's Prime Time serves prime rib in 10-, 16- and 24-ounce cuts and a chicken special every Friday and Saturday from 5 p.m. to 9 p.m. In addition, the restaurant offers 6-ounce prime rib on a rye bread smothered in au jus with salad bar for $8.95 on Fridays from 11 a.m. to 1 p.m.

Why settle for fast food on Friday or Saturday night when you can come to Zort's Prime Rib for quality and substance? You can get a good quality meal for an affordable price in a short amount of time and still be able to make the movie or game. Or you can spend two to three hours with family and friends in a comfortable atmosphere.

Make your weekend sizzle with a visit to Zort's Prime Time, located in the old convenience store portion of the Pronto Casino, on the strip in North Sioux City, S.D.

105 S Derby Lane Exit 2 I-29
North Sioux City, South Dakota 57049