Six Hour Shooting Range Punch Card - Yards Shooting Range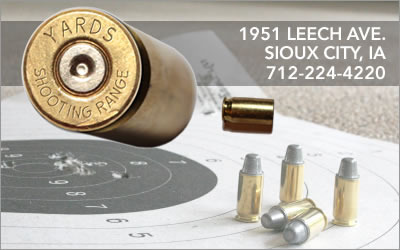 Bidding for this item is over. You may log in to check if you are a winner.
d
&nbsp:
h
&nbsp:
m
&nbsp:
s
Six Hour Shooting Range Punch Card - Yards Shooting Range

The Yards Shooting Range features four 50-foot lanes, a Range Safety Officer in range at all times, all handgun calibers and rifles 22LR, 22MAG, 17Mach2 and 17HMR, a comfortable viewing room for friends and families to watch, and a climate-controlled year-round environment. You dont have to worry about hot or cold temperatures, rain, bugs, wind or glaring sunlight when learning how to use a gun or improving your marksmanship skills.

Using an indoor shooting range offers other advantages. They tend to be open later in the evening, making them more accessible for people who like to shoot in the evenings after work and when the kids are out of school and can participate. In addition, they have professional and knowledgeable staff members who can answer questions, and check for proper form when shooting.

All range users must abide by a set of rules:
They must follow local, state and federal firearms laws.
All shooters must have a signed waiver on file before using the range.
Customers must check in at the office before proceeding to the range.

Individual handgun shooters must be 21 years of age. Handgun shooters 14-20 years of age must:

Be accompanied by a qualified shooter (parent or guardian) 21 years of age or older.
Share one lane with adult for safety & instruction.
Shoot only one firearm at a time.
All walk-ins and reservations are pre-pay. To save time, you can call the range for open lane times at (712) 224-4220. Please allow for check-in before your desired shooting times.

The Yards Shooting Range is located at 1951 Leech Ave in Sioux City. It is open 10 a.m. to 8 p.m. daily.