$10 One-Eyed Jack's Gift Certificates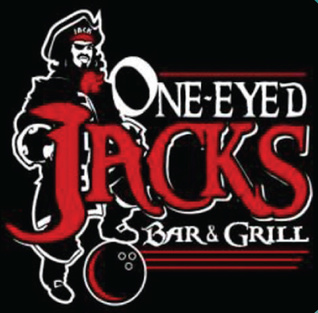 Bidding for this item is over. You may log in to check if you are a winner.
Package of Two - $5 One-Eyed Jack's Gift Certificates. (good thru 6/30/2019).

Bring a friend for lunch!

One-Eyed Jack's, located next to the Plaza Bowl bowling alley, offers a full cocktail bar with Happy Hour, an enclosed beer garden, a fun atmosphere and tasty food - all the elements needed for pleasing a crowd.

When it comes to their menu, burgers are the name of the game at One-Eyed Jack's. One of the burgers they are known for is the Kackleburger. The name sounds weird, but the burger has a taste second to none with unusual co-stars: peanut butter, grape jelly, onions, and a fried egg on a 5-ounce burger in between two buns. It will leave your mouth watering and your senses in shock.

Strangely enough, the toppings on the Kackleburger are the perfect combination, according to a Weekender review of the weird burgers of Sioux City. The yolk-y egg provides moisture to the grilled meat while the grape jelly infuses the necessary sweet note to a salty peanut butter.

Eat in or take-out is available.


One-Eyed Jack's hours are 11 a.m. to 2 a.m. Monday through Saturday and 11 a.m. to 11 p.m. on Sunday.

For more information, call 252-3162.





3091 Hamilton Blvd.
Sioux City, Iowa 51104