$40 Mr Stir Fry Gift Certificate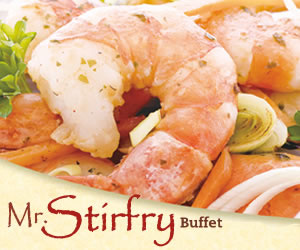 Bidding for this item is over. You may log in to check if you are a winner.
Eight $5 Mr. Stir Fry Gift Certificates. (good thru 6/30/2019).

Hibachi Grill, Chinese, Japanese, American, Italian

Mr. Stirfry is the largest restaurant in Sioux City and the surrounding
areas. We have a wide selection of favorite foods including Chinese, Japanese,
American and Italian items on our supreme buffet. There is something for
everyone! Our main feature is the Hibachi Style Grill. You can select your own
meats and vegetables and have it cooked by a professional hibachi chef while
watching your meal be prepared right in front of you. Mr. Stirfry provides a
healthy alternative to the other restaurant varieties in town. We have fresh
ingredients, delicious sauce and quick service. Every day we offer over 100
items on our buffet bar. For those individuals that are vegetarian there is
a large salad buffet with vegetables, many toppings and a wide variety of
dressings are made fresh daily. If you're a sushi fan, Mr. Stirfry offers daily a
sushi bar with a great selection of freshly prepared sushi.






4501 Southern Hills Drive
Sioux City, Iowa 51106