$700 Cooling System Replacement Certificate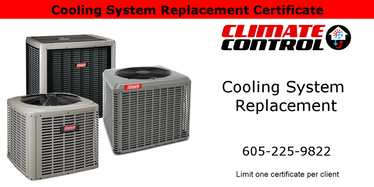 Bidding for this item is over. You may log in to check if you are a winner.
$700 certificate towards the purchase of a new cooling system. Install the most efficient & complete cooling system tailored to your needs. We provide quality installation & service and we back up our work with service & maintenance agreements. Limit one certificate per client. one certificate per piece of equipment. Cannot be combined with any other discounts or offers. Expires 12-31-2021.

NOTICE: Any sales tax or title/licensing requirements is NOT included in this price and will be collected directly at this business upon receipt of this item.

1910 130th Street NW
Aberdeen, South Dakota 57401