Tandem Skydive with Freefall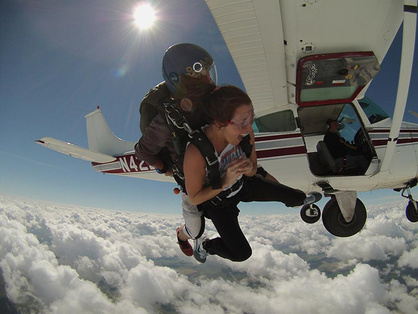 Bidding for this item is over. You may log in to check if you are a winner.
See video!
https://skydiveatlas.com/images/videos/action_video.mp4

Meet us at the address below:

check us out on facebook:
Skydive Omaha & Lincoln
or
Nebraska Skydiving School

402-831-1231

Brewster Field
1320 Brewster road
Holdrege, NE 68949

Sean Tillery
308-240-1881
402-831-1231

Experience the thrill of up to a mile free-fall with experienced professional tandem jumpers using state of the art equipment. Your jump starts at 12,500 feet, then your jumping guide opens the chute as you take in spectacular views on your way to a perfect landing Skydive Atlas has a "dream team" of certified instructors that can meet the needs of virtually any event. With thousands of safely completed jumps, Skydive Atlas can assure a professional skydiving experience!

Check out videos and pictures on our website.



Holdrege Airport 1320 Brewster Road
Holdrege, Nebraska 68949