Engineering Makerspace Off-Road Rovers Science Experiment Kit from Buffalo Computer Consulting (1 Available)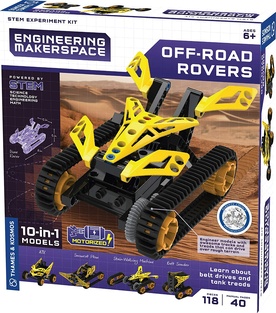 Bidding for this item is over. You may log in to check if you are a winner.
Build 10 motorized models of different kinds of vehicles and machines while learning about belt Drives, wheels, and tank treads.
Models include a dune racer with tank treads that rambles over rough terrain, a four-wheel-drive ATV with a belt drive and high-grip tires, a conveyer belt, and many more.
Comes with a 40-page, full-color experiment manual with step-by-step assembly instructions and scientific explanations.
Battery-powered motor box brings your models to life!
Skill level: Intermediate

No expiration
No cash value

733 Fort St.
Buffalo, Wyoming 82834